Having had some time over the Christmas break to get out riding I fancied some action where I could practice my jumping skills. Having heard good things about Wind Hill Bike Park, and having previously ridden at Tidworth Freeride, another one of B1ke's locations, I got the Norco strapped onto the car and headed West to Warminster.
Located in the grounds of Longleat Safari Park, just outside of Warminster, the park is just under an hour's drive from my home in Andover. The car park is located just past the Safari park's main entrance and is free of charge. The bike park is a short, five minute ride, which is well signposted for riders. Upon arrival you will need to produce your B1ke membership card, or register on your mobile phone (but I would advise doing this in advance) and pay the single price ride fee of £10.00.
A board with safety information is at the bottom of the start ramp, I suggest you read this before riding. I also recommend a full-face helmet, pads and any body armour you have. Better safe than sorry!
The Trails
There is no trail map and no clear instructions of where to ride, although it doesn't take much to work out that all trails start on the ramp. The park is split into two halves – the ramp to the right starts you off on the flow trails, the other ramp gives you two options to start… A one dot trail or a three dot pro-line trail. These trails are more natural trails with plenty of roots and mud (the latter being based on the time of year I suspect). Options to 'peel off' the main trail are sign posted along the way, each option's difficulty marked with one – three dots.
Based on the lack of a trail map I am unsure of exactly how many trails were suitable for my level of riding. I mainly rode the one dot flow trail, which had a two dot option splitting off, which I also rode. These trails were fast, flowy and had lots of opportunities to get some air over the numerous tabletops, all of which were rollable. Some of the tabletops had multiple line choices depending on your skill level and ability to get more air if desired.
I was surprised at how long these trails were, they really give you a good run with plenty of features. Any longer though and the push-up would have been too much. It was hard enough for me to haul my unfit, overweight body up as it was.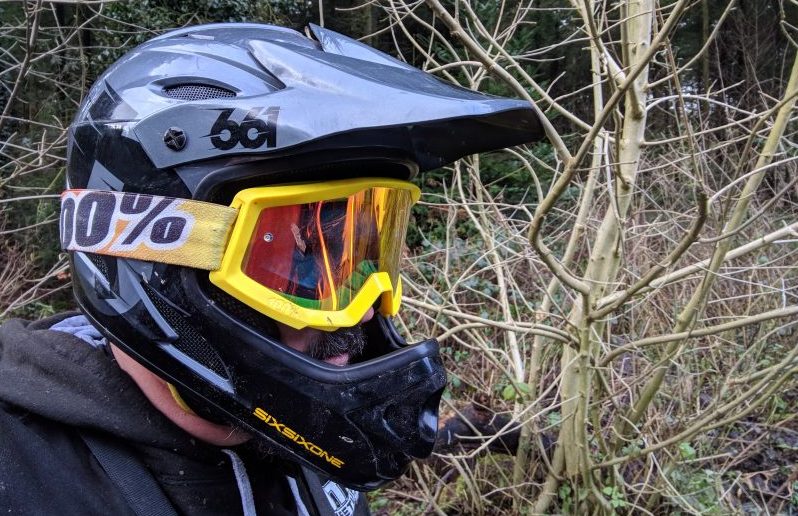 Summary
I used the day to really learn the trails, which meant I could concentrate on practicing my jumping. Having 'sessionable' (this should be a word) trails for learning is a must for me and as such Wind Hill delivered on this front. I got about 12 runs in over 4 hours, but in the end the push-up finished me off. Definitely need to work on my overall fitness, I'm sure a few more visits will help with that.
The main gripes for me… The lack of trail maps and overall organisation of the place, which would not take a lot of effort to fix. The single price, it will cost you £10.00 if you ride all day or only for an hour so not really an option for a flying visit to make the most out of your tenner. A final point is the awful website, which gives no useful information, however I did find a contact number on their Facebook page. Upon calling they were able to answer my questions regarding costs and opening times.
The park is open between 10:00 and 16:00 over the winter, but check their Facebook page for changes and call them before your visit if you're unsure.
Verdict
Overall I would recommend you visit Wind Hill, especially if sending it over big tables and 40ft gaps is your thing. The park is definitely more geared up for the pro-line riders, however the intermediate trails offer a great place to hone your skills. The more skilled at downhill and freeride you are the more you will get out of your visit.